Acronis Cloud Manager 5.1.22042.85 (x64)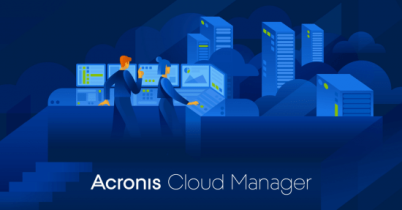 Acronis Cloud Manager provides advanced monitoring, management, migration, and recovery for Microsoft Cloud environments of all shapes and sizes, including single and multi-tenant public, private, and hybrid cloud configurations. Acronis Cloud Manager is the only platform to provide unified public, private, and hybrid cloud management, migration, monitoring, backup, and recovery for the Microsoft Cloud from a single, easy-to-use, and cost-efficient access point. Our platform eliminates the need for point solutions and non-integrated tools, each of which features a different interface and learning curve. By replacing these tools, Acronis Cloud Manager dramatically reduces the complexity of managing your decentralized cloud environments, allowing you to reduce IT costs, achieve peak performance, and satisfy customer and employee demand.
Eliminate management complexity
Hybrid cloud deployments come with the price of additional complexity. Acronis Cloud Manager addresses the problem of this complexity directly. It offers the first monitoring and management solution that works with both Hyper-V and Azure. Acronis Cloud Manager allows your organization's administrators to manage every aspect of your Microsoft Cloud deployments, both locally and in the cloud, from a single unified console.
Increase operational efficiency
Acronis Cloud Manager makes your organization's administrators far more efficient. They no longer need to use multiple tools, log in to Hyper-V hosts, or log in to the Azure Portal. Instead of constantly switching between tools, they can do it all using the unified console provided by Acronis Cloud Manager. In addition to saving time, many formerly complex tasks can be completed with just a few mouse clicks via the intuitive graphical user interface. For management of Hyper-V environments, administrators can also leverage a web-based, multi-tenant console for ease of accessibility.
Strengthen business continuity
Built-in fault tolerance, resilience, high availability, and replication, as well as backup and recovery to and from local, remote, and alternate sites, help mitigate the risk of downtime or data loss. Acronis Cloud Manager makes it easy to set up automatic replication to another Hyper-V cluster or to Azure, ensuring that organizations have secure copies of their most important data and VMs.
Lower total cost of ownership (TCO)
Acronis Cloud Manager's unified platform eliminates the need for point solutions while providing everything needed to monitor, manage, migrate, recover, and protect small- or large-scale Microsoft hybrid cloud environments regardless of whether they're single- or multi-tenant. The role-based access control (RBAC), network and security monitoring, and easy remote management tools eliminate the need for costly virtual private networks (VPNs), remote network access solutions, and complex permission management services.
Mitigate security and privacy risks
Acronis Cloud Manager's comprehensive role-based access control (RBAC) model prevents unauthorized users or tenants from viewing private data, private resources, or making malicious or accidental changes to the environment. Network and security monitoring help to identify unauthorized access attempts.
Features:
Agentless management
Lightweight, agentless technology means there's no need to install additional software on any of your VMs
Role-based action control (RBAC)
Limit which resources can be viewed and what operations can be performed by specific users, administrators, and tenants
Full virtual machine (VM) lifecycle management
Centrally create, configure, manage, and maintain VMs across your private, public, and hybrid cloud environments
Full-featured RESTful APIs
Automate tasks and call Acronis Cloud Manager from other management tools – the API covers every feature that can be accessed through