Chaos Intellect 10.3.0.8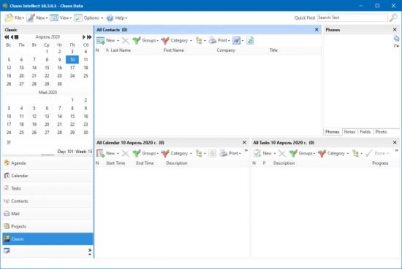 Chaos Intellect is the next generation contact manager and time management tool featuring full e-mail capabilities integrated with a contact address book, appointment schedule and to do task management. Works well for individuals or shared workgroups on networks.
Here are some key features of "Chaos Intellect":
· Advanced functionality but intuitive and actually easy to use!
· Import data to get everything jumpstarted. Grab data direct from MS Outlook, or via Text CSV files, Excel Spreadsheets and MS Access Databases.
· Our entire program and data files can be run from a USB flash thumb drive!
· Use a USB flash drive to synchronize your data with multiple computers.
· Get Calendar alert reminders even when Intellect is not open with our memory-resident alarm service.
· Great spam fighting options with email from people in your contact list automatically protected!
· Instantly locate all data based on a simple keyword or keyword combination.
· View your data in many intuitive ways, including an all-in-one Classic screen.
· Create and send full HTML email messages with inline images that can dazzle.
· Live spell check on records and email messages.
· Every contact has a "business card" with links to automatically dial phone numbers, visit web sites, send faxes via MS Fax, Skype dialing, and links to online map services to get directions to a client's location.
· Its easy to move data and email (including account settings) from and to new computers.
· Easy to use "drag and drop" interface.