CyberLink AudioDirector Ultra 12.4.2730.0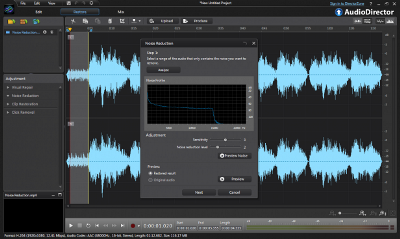 Audio is half of the movie experience, and improving the audio in video projects dramatically enhances the final result. AudioDirector contains cutting-edge tools that make editing and fixing audio tracks fast and simple. With end-to-end audio features and seamless integration with PowerDirector, AudioDirector is a must have application for extreme video makers.
Round-trip Editing
AudioDirector works flawlessly with PowerDirector, providing effortless round-trip editing. With round-trip editing there is no need to export your modified sound tracks and then re-import them your into your video project.
Precision A/V Syncing
Visual editing tool lets you accurately synchronize voice-overs or audio effects to specific video frames, while automated dialogue replacement helps you to seamlessly align post-recorded audio to your video.
64 bit Support
AudioDirector offers a native 64 bit support editing engine for improved system efficiency and seemless performance while you edit your audio.
4K Video Rendering
Add high-quality audio to your Ultra HD resolution videos with support for both 2K and Ultra HD 4K video production and now rendering.
Faster Loading & Conversion
AudioDirector 7 lets you get to work quicker with less resource instensive loading and importing. Once you are done, outputting your work to whatever format you choose is a breeze, even if you have to convert the original file to a new format.
Surround Sound Panner
Create sophisticated surround sound projects using dynamic panning technology
Total Output Control
Enjoy precise control over speaker output, including setting timed repeats of established sound pans
Upto 7.1 Channel Audio
Produce your audio files with support for up to 7.1 channel audio, bit rates up to 192kHz and 32-bit depth for clarity and fidelity.
Visual Effect Timeline
An innovative display presents effects on a layered timeline below the audio waveform so you can see all applied effects at a glance.
Vocal Transformer
Vocal Transformer lets you alter existing vocals into the voice personality of your choice. Choose from five existing presets or create your own.
Pitch Bender
Set keyframe points and accurately transform the pitch of audio tracks to give your recordings the exact effect you're after.
Stereo Expander NEW
Use new Stereo Expander to virtually give tracks a wider stereo presence and sound fuller.
Visual Repair
Choose between waveform and frequency spectrum visual interfaces, which highlights audio imperfections and allows you to fix them using Visual Repair.
Noise Profile Presets
Once you have successfully repaired audio using hum or hiss removal, you can save the repair function settings as a preset for future use on other audio tracks.
Restoration Adjustment Tools
- Noise Reduction Clears unwanted static and background noise
- Declip Removes distortion caused by clipping
- Declick Clears track of clicks, pops and crackles
- Hiss Removal Eliminates hissing sounds from audio tracks
- Hum Removal Gets rid of low frequency audio artifacts
Group Track Selection for Adjustments
Speed up the editing process by selecting and applying audio adjustments to multiple tracks with just a click.
Simultaneous Multitrack Recording
Record from multiple audio sources either individually or simultaneously while maintaining control over the final audio arrangement.
99 Tracks with Icon Track Control
Convenient control buttons on each individual audio track up to 99 tracks for full control at your fingertips. Select a track icon, mute, record, add volume keyframes and more.