Disk Pulse Pro / Ultimate / Enterprise 14.2.18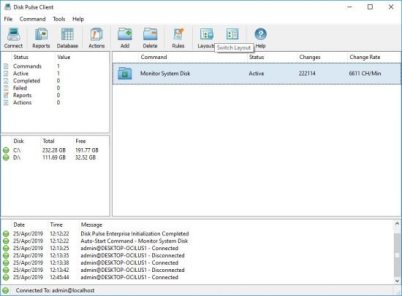 DiskPulse is a fast, effective and easy-to-use disk change monitoring solution allowing one to monitor one or more disks or directories and to detect file creations, file modification, file attribute changes and file delete operations in real-time.
In addition, power computer users are provided with an advanced product version, named DiskPulse Pro, which is capable of processing significantly larger amounts of files, allows one to send E-Mail notifications, execute custom actions, save disk monitoring reports, provides the user with the ability to monitor specific file types and enables execution of user-defined monitoring commands using direct desktop shortcuts.
Moreover, IT administrators and provided with DiskPulse Server, which runs in the background as a service and is capable of submitting disk change monitoring reports to a centralized SQL database. Finally, enterprise customers are provided with DiskPulse DB Server, which is capable of receiving reports from multiple production servers, applying user-defiled report analysis rules and sending E-Mail notifications when critical issues are detected in one or more disk change monitoring reports received from production servers.