Escape Motions Rebelle 5.1.1 Pro (x64) Multilingual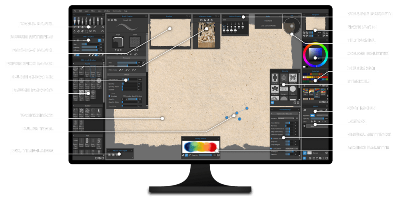 Paint with natural watercolors and acrylics. Rebelle is a one-of-a-kind paint software that lets you create realistic watercolor, acrylic, and wet and dry media artwork, using real-world color blending, wet diffusion and drying.
The unique watercolor simulation was created by artist Peter Blaškovic, who sought to fulfill his vision of a digital paint program that mirrored the physical world. Rebelle is for everyone who wants to use the latest groundbreaking digital painting technology! Beginners can use it to learn and explore the creative world of watercolors and arcylics while traditional painters and computer graphic artists can explore and broaden their artistic repertoire. Sit back and enjoy the beauty of Rebelle software in this wonderful speed painting video by Tim Shelbourne.
Realistic Brushes and Techniques
Enjoy using realistic watercolor, acrylics, inks and pastels and broaden your horizons with these new digital art techniques.
- Real world simulation of paint diffusion
- Wet tools: Watercolor, Acrylic & Ink Pen
- Dry tools: Pencil, Pastel, Marker, Eraser
- Blend and Smudge tools
- Custom Brushes
- Wet, dry and blow the wet painting
- Tilt the canvas to get flow effects
- Pen pressure support
Layers & Colors
- Unique color mixing
- Creative stencils and masking tools
- Selection tools
- 10 paper and canvas presets
- 23 Photoshop blending modes including Normal, Darken, Multiply, as well as various Burns, Dodges, Lights and more
- User predefined color sets
- Image color tracing
Layers & Colors
- Drag & Drop image from folder or web
- Import and export with alpha channel
- PNG, JPG, TIF, BMP and REB files
- Layered PSD support
- Iterative Save - Save sequentially numbered versions of an artwork with "_1" and increasing by 1 for each sequentially numbered file.
- Image file thumbnails - You can see the Rebelle image file thumbnails in every file browser or file dialog together with an image preview when available.
Intuitive Interface
- Intuitive customizable interface
- Multitouch gestures
- Custom keyboard shortcuts
- Support for Retina touch displays
- Fullscreen mode
- Available in English, German, Japanese, and 12 other languages