FL Studio Producer Edition 20.8.4.2576 + FLEX Extensions & Addition Plugins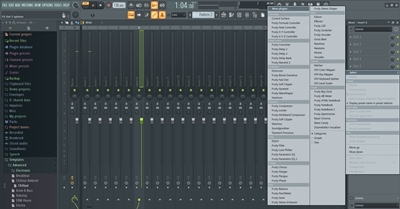 FL Studio Producer Edition 20 is one of the best software for creating your own music. With it, you can create your own tracks of any style. The program has all the necessary functions for working with sound: recording, mixing, mastering and also has a large number of synthesizers and virtual plug-ins.
Main elements of FL Studio
Mixer: Mixing and mastering music to the highest professional standards. All the features you need for the most advanced complex productions, including effects chains, routing, side-chain control, advanced automation, plug-in delay compensation and more...
Piano Roll: has a well-deserved reputation as the best instrument in the industry. The Piano Roll is used to send notes and automation data to the plugin's instruments (sequencer). It includes a wide range of tools to assist in complex editing and manipulation.
Browser and Playlist: No other DAW matches the flexibility of FL Studio's playlist. It contains the sequence of all project elements. Tracks can contain recordings, audio data, and automation. Put any type of data anywhere and even overlay it. Use the Browser to organize all the data in your project. Simplify your workflow and free your mind!
Over 80 plugins: FL Studio Producer Edition includes over 80 instrument and effect plugins covering automation, sample playback/manipulation, synthesis, compression, delay, filters, phaser, chorus, reverb, distortion, beat crash and more. With FL Studio, you'll be ready to create just about any genre.
Instruments and Effects: If the huge array of custom instruments and effects is not enough for you, FL Studio supports all VST 1, 2 and 3 standards. VST gives you access to the widest range of third party plugins currently available. You can even use FL Studio as a VST plugin in another host.
Key features of FL Studio
High quality sound engine, for professional sound quality
Sophisticated interpolation algorithms (Hermite, sync) during real-time playback and during rendering
DirectSound and ASIO enabled sound card for sound output and ASIO audio recording
Open architecture that allows you to connect third-party tools
Ability to function as a VSTi, DXi and ReWire client
Ability to connect ReWire clients by itself
Advanced sequencing methods allow you to quickly enter realistic drum parts and compose complex instrument parts
Unique ability to change note properties (pitch, clipping, resonance, panning)
Live multi-track audio recording, motion control and integrated automation event editor
Multi-segment automation clips with unlimited complexity and an integrated LFO block
Procedural control of parameters using dedicated control plug-ins
Advanced mixer: 68 tracks (64 for insert and 4 for song send) with support for up to 8 FX plugins per track
Send any mixer path to any other track and create complex mixing chains of virtually unlimited complexity
Track recording with ASIO input support (for recording MIDI, vocals, etc.)
Built-in parametric EQ, volume and pan for each track
Many high quality integrated instruments: WaveTraveller, Sampler, TS404, 3xOSC, Plucked, MIDI Out, DX10, Scratcher, Wasp and more!
Full set of high precision mastering and special filters, effects
Expanded playlist and full featured audio tracks
Press the delete button and equalize the volume to avoid crackling
Import WAV, FLAC, OGG, MP3, MID, REX, SYN (SimSynth 1 & 2), DS, etc. as sample formats
Export audio to 16 or 32 bit WAV, FLAC, MP3 or OGG files
MIDI remote control of most parameters (VST plugins are also supported)
Import MIDI sequences and controller events
Export MIDI notes and controller events to a standard MIDI file