Fast Video Downloader 4.0.0.29 Multilingual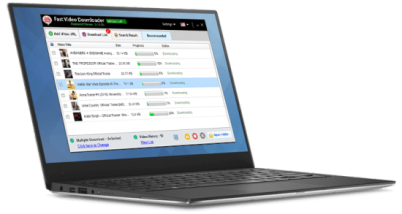 Most video hosting websites do not contain a download option for the files they display, which can be frustrating sometimes, especially if you cannot find a valid download link for a video that you have seen. Fast Video Downloader is a handy piece of software that can help you overcome such problems. It allows you to download your favorite videos from popular hosting websites, such as Youtube, Bing, Vimeo, DailyMotion, Metacafe, Facebook, Worldfloat, Veoh, Break, CollegeHumor, EHow or Imdb.
Reliable and fast tool for downloading videos
The application provides you with a quick and efficient way of downloading videos from online hosting websites, thus helping you overcome the lack of a valid download link. You can process multiple links at once and download each video they lead to.
Aside from that, the program can load videos from playlist links, allowing you to quickly select which videos will be downloaded and which ignored.
Sturdy utility for video download
Fast Video Downloader helps you quickly find and download your favorite video streams from within the application. On top of that, you can quickly populate your download list with links, as the program automatically retrieves copied content directly from your clipboard. This means you do not have to keep copying and pasting every link, but systematically copy each one as you keep browsing for other videos.
Aside from that, the application keeps track of every downloaded video, allowing you to access this log in case you forgot on which website you saw them.
Conclusion
To sum it up, Fast Video Downloader offers you a quick and simple way of grabbing videos from various website, by just using their links. Because the files are batch downloaded, the same quality setting applies to all your videos. Individual quality settings, tailored for each video would constitute an improvement that could help users customize their downloads