GoodSync Enterprise 11.10.8.8 Multilingual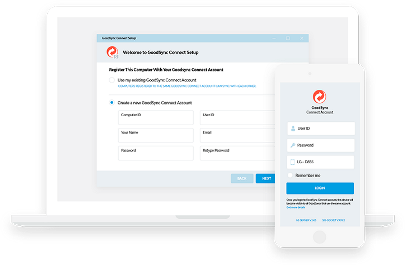 GoodSync is an easy and reliable file backup and file synchronization software. It automatically analyzes, synchronizes, and backs up your emails, precious family photos, contacts, MP3s, financial documents, and other important files locally - between desktops, laptops, servers, external drives, and Windows Mobile devices, as well as remotely through FTP, SFTP, WebDAV, and more. GoodSync file synchronization software combines bulletproof reliability with an extremely easy to use interface to compare, synchronize, and backup your emails, contacts, photos, iTunes, MP3s, and other important files. Automatically synchronize and back up your important files between desktops, laptops, servers, and external drives over a network or the Internet. Using an innovative synchronization algorithm - GoodSync file sync software is years ahead of the pack when it comes to file synchronization.
* Locking for Sync: fix gross inefficiency in checking for ghost _gsdata_ folder.
* GoodSync server now requires GoodSync Pro license, just like client does.
* Activation + Server: now GS client asks GS server to Refresh upon activation.
* Server: return full server info, so that it is shown in side description.
* Accept Sockets: fix stopping sequence, it could misfire sometimes.
* FTP: fix cannot do FTPS data connection with Pro-FTPD server.
* FTP: do workaround for MLST lines without leading space.
* Keep GetInfo of the state file even for state file stored in mirror folder.
* On File Change: skip monitoring errors, instead of interpreting them as overflow.
* On File Change: filter out files/folder by path filters, before starting Analyze.
* On File Change + Auto Clear option: fix this combo, it could do bad sync.
* On File Change: fix reaction on disconnect of a sync folder.
* Scripts: fix Post-Sync script called with wrong -1 numeric arguments.
* Scripts: call Post-Sync script after Sync in On File Change too.
* Server: fix FS properties misreported if client and server versions differ.
* GsFileCopy: add a branch for direct (no temp) GSTP to FILE upload.
* Fix UTF-8 to UTF-16 conversion, it was not handling 4-byte Japanese chars.