Jerry YouTube Downloader Pro 7.17.7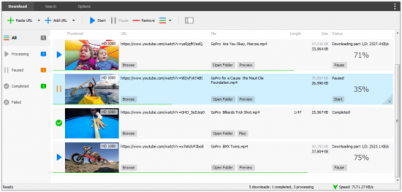 YouTube Downloader Pro is an application that can help you find, download and convert videos from the popular video streaming service so you can enjoy them offline on various devices.
Enables you to search for videos and download them
First off, you should pay attention when installing the application, especially if you do not want to end up with shortcuts to Media Player on your desktop or file associations you do not need, as they are marked by default.
The program comes with a clean, well-organized and user-friendly interface that consists of three main tabs, the Download section, Search and Options. While the first two tabs are suggestive for their roles, you can set up the download folder, specify the download quality and access the converter from the Options tab.
It is necessary to mention that the interface also includes a small floating widget that you can move around anywhere on the screen and add the URL address of the clips you need to add them to the download queue. Although it can come in handy sometimes, it would have been useful if you could disable it.
Includes a handy converter function and supports numerous formats
You should know that the application works with a plethora of file formats, including but not limited to MP4, WEBM, FLV, 3GP and FLV. In the eventuality that you are working on an extensive playlist, then you have the option to download files as audio only or choose a file format based on additional criteria, such as frame rate, sample rate, preset or channels, for instance.
As previously mentioned, the utility enables you to convert videos to other formats, including HD quality, so that you can enjoy them on other gadgets, like your iPod, iPad, tablet or smartphone. Speaking of mobile devices, the tool lets you know the file formats that are supported by various smartphones on the market.
An all-in-one solution for managing videos
In the eventuality that you need to download videos so that you can enjoy offline or perhaps create a playlist for your iPod so you can listen to it while exercising or driving, then perhaps, YouTube Downloader Pro could lend you a hand.
Features :
While downloading, you can click the Preview button to play incomplete video and make sure that the content you are downloading is really the video of your choice.
YouTube Downloader Pro supports simultaneous downloads that allows you to download more than one video at the same time.
YouTube Downloader Pro can automatically optimize downloaded videos for any device, so you can watch them on your iPhone, iPad, Android phones, Android tablets, Xbox, Windows phone, PSP/PS4/PS3, Samsung Galaxy, etc.
You can directly drag and drop video link/URL from your browser to the Drop Box of YouTube Downloader Pro to start download. You don't even need to copy and paste video URL manually.