Kaizen Vehicle Manager 2022 3.0.1013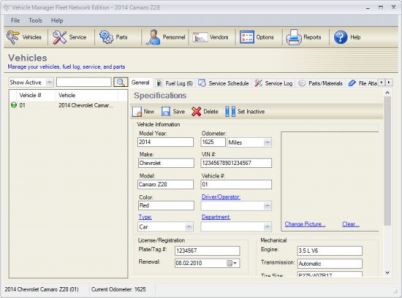 Vehicle Manager 2019 Fleet Network Edition is an advanced software application whose purpose is to help you track your vehicle maintenance, contacts and vendors. It can be used with a remote Firebird server in order to store information about scheduled and completed maintenance, parts, expenses, usage and other details in a central database.
Vehicle Manager Features:
Track up to 10 (home edition), 50 (professional edition) or an unlimited number of vehicles (fleet edition).
Schedule recurring maintenance and inspection items by miles, kilometers, or hours.
Track your vehicle's completed service and expenses.
Track your vehicle's fuel efficiency over time (miles/gallon, kilometers/liter).
Maintain a database of the parts used on your vehicles.
Track related vendors and contacts.
Set options to track in US or Metric units.
Print reports and export to various formats.
Track and report on business vs. personal miles.
Track drivers and their licenses/certifications/accidents (Pro and Fleet versions only).