Macrorit Data Wiper 4.8.3 + WinPE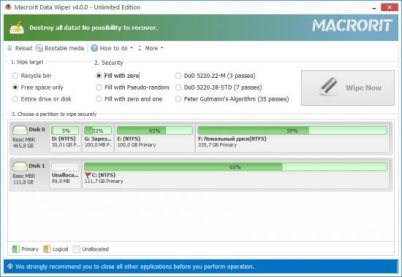 One-stop Toolkit for Secure Erasing Data, Partitions and Disks. Completely wipe system/boot partition. Many program files are stored in system disk drive by default. If you or your organization want to permanently wipe disk drive to prevent your data from unauthorized using, this feature is necessary.
Features:
•Wipe unallocated/free space with fast wiping algorithm.
•Built in brand-new Macrorit algorithm for fast wipe NTFS partition.
•Completely wipe disk or a separate partition, USB drive, external hard drive, etc.
•Irreversibly erase sensitive data easily and quickly.
•System or boot partition can be wiped directly without limitation.
•Allows commercial use and provides charged service to your customers.
•Completely wipe system/boot partition.
•Periodic friendly notifications.