NIUBI Partition Editor Technician / Unlimited Edition 7.8.3 + WinPE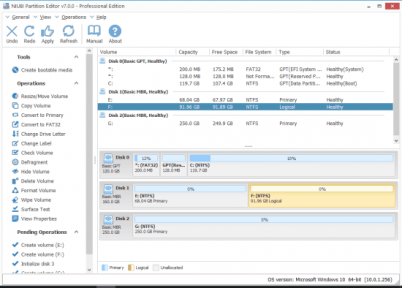 MBetter than other utilities, NIUBI Partition Editor integrated unique Roll-Back data protection technology, which is able to roll back the computer to the status before resizing automatically if any hardware issue occurred, so you don't need to worry about data safety. Furthermore, the built-in unique file-moving algorithm helps resize partition 30% – 300% faster than other tools. Time is important to you and your customer! NIUBI Partition Editor Technician Edition is the best cost-effective option for you to provide charged technical services for multiple companies and individuals. One license code can be registered on unlimited desktops, workstations and servers regardless of network size or architecture..
Working similarly with but much powerful than Partition Magic. This partition manger software supports Windows 10, 8, 7, Vista, XP (both 32 & 64 bit). NIUBI Partition Editor Professional Edition is not only a partition resizer, but also an All-in-One toolkit. It helps copy partition to migrate data, create, delete, format, hide, active, defrag, convert partition and much more to better manage disk partitions and improve system performance.
What's it all about and what it can do for you
Just like most other comprehensive disk management tools out there, it too can help you resize, create, hide, format, move, rename, delete and performs a wide array of other operations on your computer's partitions, mostly without forcing you to reboot your PC.
Additionally, it's also capable of migrating data and changing the partitions' statuses between Logical and Primary without requiring anything more than a few mouse clicks on your part. What's more, it can just as easily convert NTFS drives to FAT32 and vice-versa.
Other noteworthy features include the app's Virtual mode that allows you to avoid potentially catastrophic disk management mistakes (meaning you can redo your steps before proceeding forth with the changes). It also comes with support for multiple storage options such as internal and external hard disk drives (Hyper-V, VMware virtual disk, all types of Hardware RAID).
A few insights regarding its installation and user interface and, more importantly, the paid editions
We're happy to report that NIUBI Partition Editor is just as user-friendly and as widely-accessible like most similar solutions of this sort, even though, you may have preferred it in a tad bit more stylish package.
Installation is simple when it comes to all its versions, and there aren't that many changes regarding overall user experience between the tiers. Since we're on the subject, we would like to point out that, unsurprisingly, some advanced features are only available through the paid versions.
For instance, by opting for one of the paid versions, you're provided with the useful RollBack data protection feature, as well as with the possibility of creating all sorts of bootable media. There's also a Server Edition that, as its name suggests, brings forth all the advantages of the Professional edition with the added bonus of being capable of running on Server editions of Windows. More information about the product's editions can be found here.
Comprehensive disk management tool that's well worth your attention, even though it's not all that different from the competition
To conclude, NIUBI Partition Editor is an all-in-one disk management solution that boasts enough useful and advanced features, available through various editions, that should come in handy to both day-to-day and professional users.