Office Timeline 6.06.02.00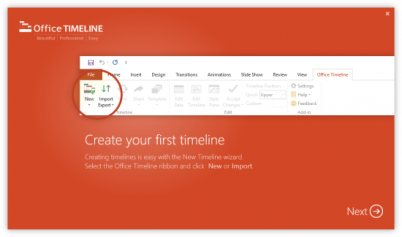 Beauty trumps complexity
Build stunning PowerPoint timelines without the effort and cost
Free yourself from the tedious work of manually building project visuals that are difficult to manage. Office Timeline helps you make timelines in PowerPoint almost instantly. Customize them with just a few clicks to create clear, elegant high-level presentations that that everyone will understand.
PowerPoint timelines made easy
No complex steps. No learning curve. No hassle!
Creating stunning timelines in PowerPoint is easy! Simply pick the timeline style or template you want, enter or import your project's data, and click Create. It's that simple!
User-friendly PowerPoint timeline generator
Create and present project plans in a simple and familiar way
Improve project communication with stunning PowerPoint timeline slides that can be viewed, edited, and shared by anyone who has Microsoft Office. Office Timeline's seamless integration into PowerPoint makes it simple to present project plans or Gantt charts in a way that important audiences expect - and easily understand.
Free PowerPoint timeline add-in: no sign-up needed
Anybody can make an impressive timeline in less than a minute
Office Timeline Free Edition creates professional looking Gantt charts and timelines, quickly. Simply download the add-in, and you're all set to build your first graphic. Perfect for teams and colleagues who need to instantly create executive-level project reviews that showcase their work.
Works with: PowerPoint 2007, 2010, 2013, 2016, and Office 365