PDF Combine 3.7.2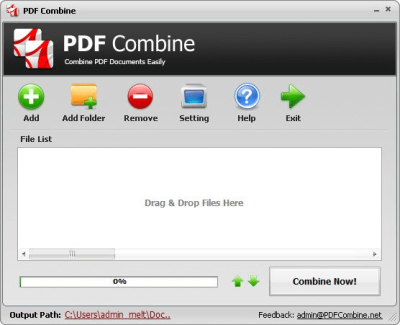 You may have a few burst PDF document pages or pieces on your work, and need a tool to combine those PDF pages and files to a single PDF document. PDF Combine is a windows application to combine PDF pieces and files to a single one.
Features & Why Do You Need PDF Combine Software
Combine PDF files feature NOT Required Adobe Acrobat
feature Support 50+ Languages PDF Files
feature Combine 100+ of PDF Files in Few Seconds
feature Support All Windows Platforms
feature Auto-Remove Owner Password Protection
Organizing collections of digital documents is a concern for many who are finding that most of their personal library exists on their computer. The Portable Document Format (PDF) is the most popular technology used in the encoding of these books. PDF Combine is a powerful tool that helps people manipulate PDF files.
PDF Combine allows even new computer users to have access to a full set of features when working with PDF files. The sleek design allows users to select PDF files, then merge them together with a single button.
With many major vendors such as Amazon now selling most of their stock as digital copies, PDF combining tools are vital for anyone who wishes to keep their library organized.
PDF is the standard document and electronic fax format today, so people always face with a lot of PDF contracts and documents in the office. Sometimes there are few scanned PDF pages need to be bound to the old PDF contract; or you need to merge two or more related PDF eBooks to a single PDF eBook. PDF Combine can do those for you with few simply clicks.