RadioBOSS Advanced 6.1.2.1 Multilingual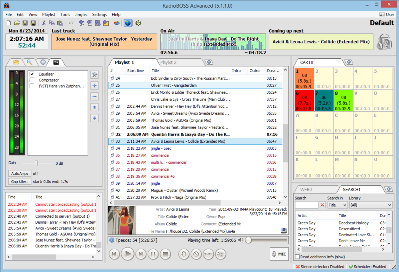 RadioBOSS provides professional radio  programming engineering and automation at a fraction of what other applications cost. If you're creating programming for a terrestrial or Internet Radio station, RadioBOSS lets you build sophisticated playlists  with the professional features you need.
RadioBOSS is also a simple to use solution to create background music for a wide range of venues: clubs, bars, restaurants, gyms and health clubs. With RadioBOSS, you can quickly create the right background music for your business and RadioBOSS will run unattended and trouble-free for months at a time.
RadioBOSS includes:
An extremely stable Player application that controls when and how playlist are played.
A built-in format converter so you can use the audio assets you already have on disk or hard drive.
A simple-to-use music database to locate, track, Annotate and manage your audio assets.
A robust playlist generator with professional functionality including playlist templates, "playlists within playlists" and more.
The components of RadioBOSS:
The Player is the central component of RadioBOSS. With it you can:
Launch and edit playlists.
Set playlist schedules.
Convert files Between mp3, wma, wav, ogg and various CD audio formats.
For advertising, specify volume increase.
Automatic volume leveling, crossfading and silence trimming.
Use the 'playlist within playlist' to create sophisticated multi-hour audio programming.
Include Internet streams (HTTP, MMS and FTP) in your playlists.
Apply a wide range of audio effects including echo, reverb, flanger, tempo, pitch.
Improve the quality of any given audio asset with RadioBOSS' 12-band Equalizer.
Use your WinAMP and DirectX (through AdaptX) plugins for even more sophisticated audio engineering.
Output either simple Duel channel (basic stereo) or taking advantage of the multichannel card installed in your PC (4.0, 5.1, 7.1, etc.) output multiple channels.
Output metadata (upload to FTP, HTTP request.