SAPIEN PowerShell Studio 2022 v5.8.203.0 (x64)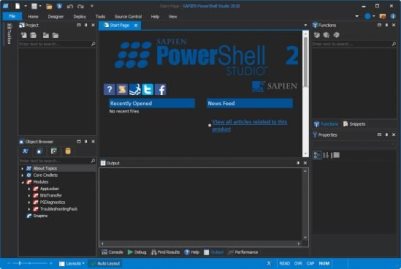 PowerShell Studio is the most powerful and feature complete PowerShell Integrated Scripting Environment (ISE) available. Our ISE is full of all the tools you need. The updated ribbon UI makes it even easier to work with your scripts. You can customize your panel layouts for the way YOU work or use one of several predefined layouts. Quickly change font size with a handy font size slider. Use our function explorer to rapidly navigate to any function, event or workflow. Change the name of a function or event and it will propagate throughout your script. Our Object browser quickly connects you with PowerShell cmdlets, .NET, WMI, databases or files. Use Snippets to instantly add predefined and tested script segments to your work. And work faster due to our performance enhancements and reduced load times.
Work the way YOU want with PowerShell.
Console, Scripts, Script Modules or Forms: PowerShell Studio gives you the tools you need to bring your PowerShell tasks to successful completion.
Key Features
Not just one, but two hot-swappable consoles: 32-bit and 64-bit which support STA mode. Each console now includes an input line that supports code hinting and completion for PowerShell cmdlets with full parameter alias support and syntax coloring. Switch between the consoles without losing context. Use the built-in support for native PowerShell remoting. And we are ready for PowerShell V3 when you are.