YouTube Movie Maker Gold / Platinum 20.11 (x64)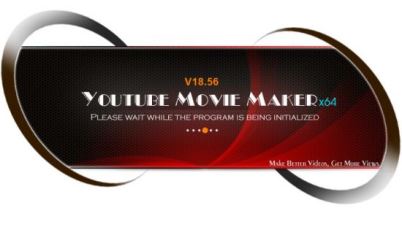 YouTube Movie Maker Platinum offers 3 main functions; Easy to make wonderful 2D/3D Video from various formats of videos, photos, musics, lyrics, texts, etc. Easy to Make and Upload videos onto YouTube in batches without worrying about format, profile, etc. Easy to manage and promote uploaded Youtube videos, get more views on YouTube.
Main Features:
Make and Edit 2D/3D Movies
Use any format photos and video clips to make cool 2D or 3D YouTube movies to share with millions of YouTube viewers, Perhaps you will be the next famous YouTuber or social media star.
Add Text, Titles, Credits and Logos
Who are you? You can personalize your video or movie with captions, titling and credits using your own logo, maintain your copyright. What was your role in the production? It's easy to add text, the Credits and descriptions to your movies, and let the world know exactly who you are and what you can do.
Add Transitions, Particles, Mask and Special Effects
Make your movies more polished with great special effects, particle effects, light and shadow effects, and professional-looking transition effects between scenes.
Add Motion Effects
Have you ever imagined videos, pictures and texts moving on-screen? It's so cool and YouTube Movie Maker makes it easy to add motion effects into the videos, pictures, texts, lyrics, subtitles, etc. Its easy interface makes it straightforward to produce cool animation movies for YouTube.
Mix multiple videos, pictures in picture
(PIP Effect)
Mix multiple videos on the same screen(PIP effect, videos in video, pics in pic). It's easy to customize each video's size and position, or add special and animation effects, etc. For example, you can easily merge a facecam video with a gaming video. No lag, High quality.
Add/Mix multiple audios
Audio, Music, Sound, Voices
Set the mood for your movie by giving it soundtracks. It's easy to add/mix multiple audio, music, instrument sounds, or use your own voice to describe the scenes in your movie. A voice-over is effective and also simple to add.
Video Chroma Key
Green Screen
Video Chroma Key is often called green screen because we usually use a green screen to remove and replace all the background of a video. The color that is being removed is referred to as "Color Range or Key Color".
Lyric Video Maker
Lyrics Video Maker
Karaoke Video Maker
Built-in the best Karaoke and Lyric video maker, you can create superb 2D or 3D Karaoke or Lyrics videos with cool motion and special effects for popular songs. It's an easy way to get a very large number of views on YouTube.
Handwriting Lyrics Video
Create a unique Lyrics video with your own handwriting digitally on-screen. You will be special one, no one can replace you.
Draw Graffiti
Graffiti is a personally expressive way to showcase your work or your thinking. Drawing digital graffiti with YouTube Movie Maker can give creators' work a unique look and style which they can easily superimpose into a video.
3D Group Effects
Make multiple video clips or images as a Group, then add cool 3D Group Effects into this Group to help you easily create cool 3D videos.
Take Snapshots
Today more and more people are using action cams(e.g. Gopro) to capture every special moment. With the "Take Snapshots" feature, you can easily to capture your favorite moments with a few clicks as you preview your video.
Playback Speed
Want to speed up or slow down your video? It's simple with YouTube Movie Maker. Now you can customize the video and audio playback speed directly. It's also easy to add a fast motion or slow motion effect onto your video.
Capture/Record Audio
Want to share your voice, songs, narration, speech, etc? Now it's easy. Use YouTube Movie Maker to capture/record audio from your computer audio device or audio input pin, then make video and easily share on YouTube, and tell everybody what you want to say.
Record/Capture Videos
Want to make an instant, interesting presentation to spontaneously share your beauty, mood or views? Now it's easy. Use YouTube Movie Maker to record/capture videos from your computer camera or capture card, then make video and easily share on YouTube to let more people remember you.
Record/Capture Screen Videos
Want to share your game playing, tutorial, product demo, etc? Now it's easy. Use YouTube Movie Maker to record your computer screen as a video, and then share on YouTube to help viewers to follow you. High efficiency and lossless quality.
Beautify/Enhance Video
It's easy to adjust video color, hue, saturation, brightness, contrast, etc. Now it's easy to enhance and beautify your videos and pictures.
Change Shape of Video
Change the shape of video clips using a circle, star, heart shape, etc. Now it's easy. You can even make a unique custom static or dynamic shape.
Powerful Video Editor
Built-in powerful video and audio editor, helps you edit any format of video and audio easily, then cut, trim, split, join, merge, mix, rotate, crop, resize, stretch/keep ratio, fill blur, zoom in/out, mute, adjust volume, fade in/out, change video color, etc.
Movie Making Wizard
No experience with video editing and movie making? Don't worry - just follow the Step By Step Wizard to create your first video, and everything will be easy.
4K Ultra HD Video
Easy to Make and Upload 4K Ultra HD Videos for YouTube. Lets your viewers enjoy the highest quality video on YouTube.
60fps Pro-Quality
Easy to Make and Upload 60fps Pro-Quality videos for YouTube. Also supports all other YouTube video frame rates, including 24fps, 25fps, 30fps, 48fps, 50fps, etc.
make and upload YouTube videos with 96kHz Audio
Easy to Make and Upload YouTube videos with 96kHz High-Res Audio. Lets your viewer enjoy the highest quality audio on YouTube.
Make and Upload YouTube videos in batch
Make and upload YouTube videos in batch, simply save a project as a Template and then you can always start each new videos with the same object(s)/element(s) as the program will automatically keep or adjust each object/element duration, position and effects, etc.
TimeLine Mode
Allows you to arrange video clips and pictures using Timeline, and it's then easy to add motion, transitions, special effects, text, lyrics, titles, subtitles, background music, etc. at just the right moment.
Drag & drop - Easy To Use
Just drag-and-drop YouTube movie making/editing, drag and drop to organize and edit the movie, for a newbie, still easy to use.
Predefined Profiles for YouTube
Uploaded YouTube videos can looks bad or fuzzy with distortion, etc. because the settings can be hard to recall. But now with YouTube Movie Maker's predefined profiles, you can easily make the best YouTube videos, and it even supports 4K/2K/HD YouTube Videos.
Directly Upload onto YouTube
Batch uploading multiple videos to YouTube sounds simple, but usually it can cause a lot of frustration with long waits, format errors, length limits, size limits, etc. But with YouTube Movie Maker, it's much simpler and faster to upload multiple videos.
Promote Your YouTube Videos
Already have a YouTube channel with many uploaded videos but few or no views, no subscribers and likes? Now you can use Youtube Movie Maker to promote your videos and give yourself a greater chance of gaining more views on YouTube.
High Compatibility
Most movie maker software only supports just a few special video/audio formats, so video creators experience the hassle of converting them between different formats. YouTube Movie Maker does away with that because it supports all popular video and audio formats.
High Performance
All-in-one YouTube Movie Maker, helps you design, create, make, edit, capture, upload, publish, manage and promote YouTube videos very effectively, quickly and easily, in a short space of time and wish a minimum of effort and expense.
Real x64 Youtube Movie Maker
Real x64 Engine, works well on 64Bit Win7/Win8/Win10, etc. Supports multi-core CPU, and Hardware Acceleration is available(17x faster) making the program much faster, more powerful, and more stable.