inPixio Photo Studio Pro 12.0.6.853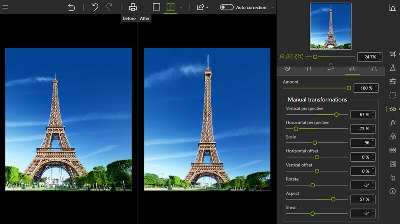 inPixio Photo Studio 12 - Photo Editing made easy! Much easier, much faster. Experience the first fully automated, one-click photo editor. From removing backgrounds to erasing objects, all the top Photo Studio features now come with one-click options. We believe that technology is there to make life easier. That is why we are constantly working to simplify our software for you, the user.
Background Eraser for Photos!
Everyone has a photo with that stranger in the background, a car driving by, or house behind us under construction. Wouldn't it be nice to be able to take those unwanted images completely out of your picture, erase your entire background, or even change your background to make it look like you are somewhere else? Well now you can do it all quickly and easily with Photo Studio, a background eraser & photo cutout software.
inPixio® Sky replacement – Pro version
The sky's the limit! Make your photos more vibrant by switching the sky. Sunset or sunshine, create the atmosphere you want for your picture and say goodbye to dull skies.
Remove unwanted objects like magic!
Completely erase backgrounds and unwanted objects from your picture. Signs, wires, people, or any image that distracts you from what you are trying to capture. The Erase function allows you to delete any object or person from your picture whilst keeping its full quality. The selection tool includes an automatic detection of colors that helps you retouch the photo. Use the Erase function to retouch portraits too. Clear up minor blemishes and reduce the appearance of wrinkles – just like the glossy magazines do!
Cut out in a few clicks!
Cut out any detail, person, object or landscape element from your photos. Select the shape of the object thanks to the cursor. The Photo Studio algorithm runs automatically! This also works as an easy but accurate background eraser. You can use the "retention" cursor for important details to keep and get a successful photo cutout! Even fine details such as hair can be removed with amazing precision. Then simply paste the cutout photos onto any background to make collages or photomontages – in just 1-click!
Create impressive photomontages
With Photo Studio you can add photo cutouts to other images to create photomontages or collages. The edge smoothing allows you to intelligently smooth contours for a softer transition between the subject and the background, for even more successful integration into your photomontage.
inPixio® One-Click Image Correction – Pro version
Amazing pictures in just one click – using 100% automatic smart technology! Improve the quality and the colors of your pictures in less than 1 second thanks to our fully automatic process. You no longer have to be a Photoshop expert to create perfect photos!
Background blur - PRO only
Make your subject pop by blurring the background. Create beautiful portraits worthy of a pro – no advanced photography skills needed.
Tilt-Shift and Soft Focus
Add horizontal soft focus (tilt-shift) to your images. This creates fantastic miniature effects that allow the focal object of your image to look like a miniature!
Color Effects (LUT)
Turn your pictures into one-of-a-kind shots by using styles worthy of a professional photographer. In just 1 click, your original photo is transformed and enhanced thanks to our selection of LUTs. You can also use this tool to import your own libraries or download and import free libraries from the Internet.